A CJLutz Chatty Cathy Page with HeartsSM
Your One-Stop Guide to Chatty Cathy Fashions, Dolls & Books! anyWWWhere! SM
Because, you are what you wear! TM
Chatty Cathy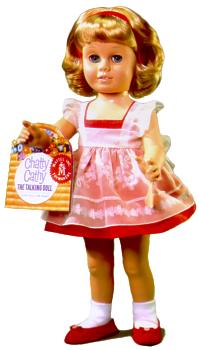 In the early 1960's Chatty Cathy captured the hearts of millions of girls. Today, she still stirs our hearts, bringing back wonderful memories of those carefree days. Mattel created her with a string on her back that, when pulled, activated her voice box and she spoke several different phrases. In 1998, knowing how so many of us loved our Chattys, Mattel created a few reproduction versions so that we would have new dolls to pass on to our daughters or granddaughters (and to buy for ourselves!).

This legendary talking doll from 1960 is available for the first time in TWO generations. Beautifully reproduced, Chatty Cathy® is a limited edition collectible.

Now you to can purchase your very own Chatty Cathy in her red sundress and white pinafore, or in her red & white stripe dress with white bolero, or in her holiday dress, or various outfits for your own dolls -- just click the link below.

Below we have some Chatty Cathy items to help you bring back those wonderful childhood memories.

To purchase any of these items or for more information, or if you just want to be "Chatty" with us, please e-mail us at ChattyHeart@hotmail.com

Thank you...

Enjoy!



Outfits for Chatty including dresses, pajamas, slips, undies, sox and more produced by My Mother's Hands mostly from Vintage Chatty Patterns


Rollerblades, Leggings and Shirt for Chatty


Denim Jumper with Black Mary Janes and White Tights for Chatty


Jeans and Tee with Visor and Sandals for Chatty


Chatty Cathy Dolls by Kathy Lewis, Don Lewis (Paperback - January 1994)


Chatty Cathy and Her Talking Friends: An Unauthorized Guide for Collectors by Sean Kettelkamp, Sean Kettlekamp (Paperback - February 1998)


Payment Terms and Shipping Information


All handmade outfits are of excellent quality, created by My Mother's Hands. All sewing is done by my mother and aunt. These are two of the finest seamstresses you will find anywhere, taking time for details that many of us don't have have the patience for!! You won't find a higher quality product anywhere! These ladies made chatty outfits for my dolls 40 years ago (mostly from the now-vintage Chatty patterns) - they can't believe I've asked them to do it again!

Please e-mail me to purchase any of these items or for more information or if you just want to Chatty with us at ChattyHeart@hotmail.com

---

If you can't find a Chatty Cathy, Chatty Baby or Tiny Chatty Baby/Brother, let us know, we can probably find one for you. We are always looking to buy or sell these 4 types of dolls and accessories from the 1960s and their reproductions, for the right price. Also check out our auctions on eBay. (Use the logo at the right to sign up.) So if you have "something Chatty" to sell or want to buy something specific, tell us! ChattyHeart@hotmail.com
You want more? Check back later -- more coming soon!
If you have any comments about our site in general, say so.
Thank you for viewing our pages & let everyone know that you found them here!
---
anyWWWhere SM Bookstores & Gifts + Music
About our Site with Hearts
Contact Us
Links & Advertising
Lowell Lutz Travel * YTB.com/LWL
---
+ visitors!

Images & text are copyright 1999-2008.


Created & maintained by 1 Cybers Place
Chatty Cathy® is a registered trademark of Mattel, Inc.