A CJLutz Chatty Cathy Page with Hearts SM
Your One-Stop Guide to Chatty Fashions, Dolls & Books! anyWWWhere! SM
Because, you are what you wear! TM
Accessories for Chatty Cathy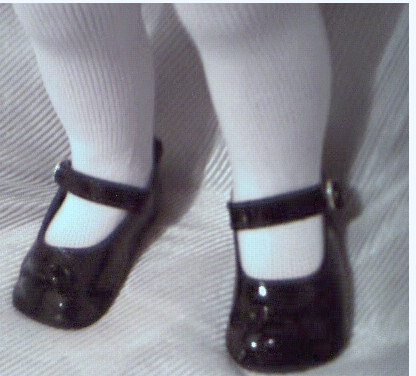 White Tights and Black Mary Jane Shoes
These shiny black shoes have a shiny black bow on the toes and a gold buckle to hold the strap in place. They fit Chatty's feet perfectly!

Tights are made from white knit fabric.

Price for this set of Tights and Shoes is $10.99. Buyer to pay shipping/handling cost of .99 cents for USPS 1st Class.

To PLACE AN ORDER or for further information, please e-mail us: ChattyHeart@hotmail.com

For Payment Options, click here: Payment Terms and Shipping Information

Teddy Bear Slippers
These slippers look great with Chatty's original (or our reproduction!) pajamas.

Price for these slippers is $6.99. Buyer to pay shipping/handling cost of .99 cents for USPS 1st Class.

To PLACE AN ORDER or for further information, please e-mail us: ChattyHeart@hotmail.com

For Payment Options, click here: Payment Terms and Shipping Information

Reproduction White Socks
These white cotton knit socks are made in Chatty's original style.

Price for one pair of socks is $3.99. Buyer to pay shipping/handling cost of .77 cents for USPS 1st Class.

To PLACE AN ORDER or for further information, please e-mail us: ChattyHeart@hotmail.com

For Payment Options, click here: Payment Terms and Shipping Information

---
If you can't find a Chatty Cathy, Chatty Baby or Tiny Chatty Baby/Brother, let us know, we can probably find one for you. We are always looking to buy or sell these 4 types of dolls and accessories from the 1960s and their reproductions, for the right price. Also check out our auctions on eBay.
You want more? Check back later -- more coming soon!
If you have any comments about our site in general, say so.
Thank you for viewing our pages & let everyone know that you found them here!
---

anyWWWhere SM Bookstores & Gifts + Music

About our Site with Hearts


Contact Us

Links & Advertising
Lowell Lutz Travel * YTB.com/LWL

---
+ visitors!

Images & text are copyright 1995-1999, 2000-2008.


Created & maintained by 1 Cybers Place

Chatty Cathy® is a registered trademark of Mattel, Inc.