A CJLutz WWWeb Page with Hearts SM
Presents:
Your One-Stop Guide to Chatty Dolls, Fashion & Books! anyWWWhere! SM
Order Now! anyWWWhere! SM
anyWWWhere SM Chatty Cathy Fashions: a new Denim Jumper and Pink T-Shirt Outfit
Because, you are what you wear! TM
Books make great gifts! Did you know that Amazon.com offers you gift wrapping & shipping to anyWWWhereSM in the world?
TO ORDER A BOOK:
Click on the item below
Add it to your "shopping cart"
Be sure to press the "Back" button on your browser after each selection to come back here & look for more items to add to your "shopping cart"
& remember: these books are usually discounted 20-40%!
If you can't find a Chatty Cathy, Chatty Baby or Tiny Chatty Baby/Brother or fashions for your chatties, let us know, we can probably find one for you. We are always looking to buy or sell these 4 types of dolls and accessories from the 1960s and their reproductions, for the right price. Also check out our auctions on eBay. (Use the logo at the right to sign up.) So if you have "something Chatty" to sell or want to buy something specific, tell us! anyWWWhere@bigfoot.com

. . . thank you!
Denim Jumper and Pink Tee for Chatty Cathy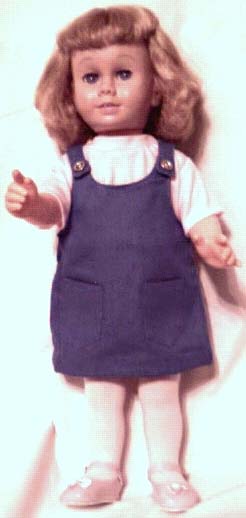 This cute Denim Jumper has two pockets in front and fastens together with velcro under the silver buttons. This outfit also includes the pink knit tee shirt. This outfit looks great on Chatty!
Price only $17.99
This is one of my favorite Chatty dolls, so, sorry, she is not included. The white tights and pink mary jane shoes are also NOT included, I just wanted you to see one of the options of how you might want to dress your Chatty in this outfit. Buyer to pay shipping charge of $3.20 for priority mail - or can be mailed first class in a padded envelope for only a .99 charge - your choice! Insurance extra/optional. Money order/Cashier check and personal checks accepted - however, please allow a slight delay in shipping if paying by personal check. Ship USA only. Payment must be received within ten days of the close of the auction.

We also accept Paypal. Would you like to pay using a VISA or MasterCard credit card by Paypal? They will give you $5.00 credit for this if you have not yet signed up. See this link: http://secure.paypal.com/refer/pal=cindyheart%40hotmail.com

I describe and picture all items for sale as fairly and honestly as I possibly can. Please e-mail any questions, as all sales are final. Thank you!

You want more? Check back later -- more coming soon!
If you have any comments about
anyWWWhere SM Bookstores
or our site in general, say so.
Thank you for viewing our pages & let everyone know that you found them here!
---
anyWWWhere SM Bookstores & Gifts + Music
About our Site with Hearts
Contact Us
Links & Advertising
Shopping @ 1 Cybers Place
---
anyWWWhere Bookstores:
shoppers
Fashion site:
+ visitors!

Images & text are copyright 1995, 1996, 1997, 1998, 1999.


Created & maintained by 1 Cybers Place
---
Amazon.com is pleased to have A CJLutz Fashion WWWeb Page with Hearts SM (and affiliates) in the family of Amazon.com associates. We've agreed to ship books and provide customer service for orders we receive through special links on A CJLutz Fashion WWWeb Bookstore with Hearts SM (& the affiliated anyWWWhere SM Bookstores & Gifts + Music).

Amazon.com associates list selected books in an editorial context that helps you choose the right books. We encourage you to visit A CJLutz Fashion WWWeb Bookstore with Hearts SM (& the affiliated anyWWWhere SM Bookstores & Gifts + Music) often to see what new books they've selected for you.

Jeff Bezos
President
Amazon.com Books

P.S. We guarantee you the same high level of customer service you would receive at Amazon.com. If you have a question about an order you've placed, please don't hesitate to contact us.

| Shipping Info & Costs | Pricing & Availability | Customer Service |