A CJLutz Chatty Cathy Page with Hearts SM
Your One-Stop Guide to Chatty Fashions, Dolls & Books! anyWWWhere! SM
Because, you are what you wear! TM
Chatty Cathy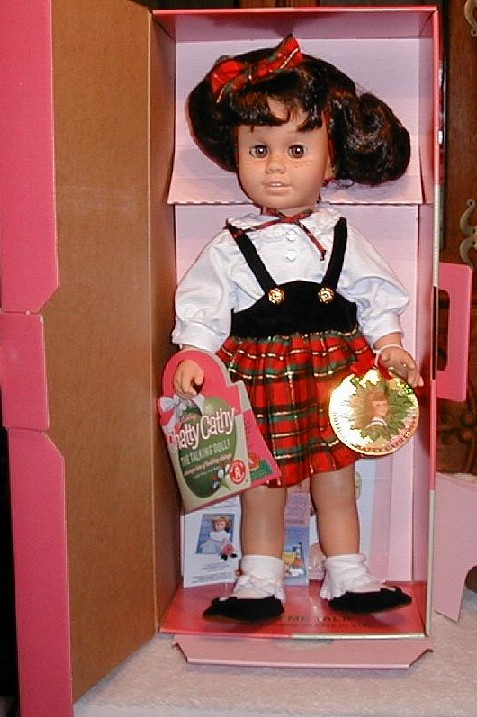 Reproduction Chatty Cathy® Doll by Mattel [sold out in most stores]
Remember Chatty Cathy, the talking doll that made her debut in 1960? Well, she's back and ready to celebrate in a first ever holiday edition.
Cathy says ten new phrases, recorded in her original, familiar voice, including "Let's bake cookies together," "Do you like my new holiday dress?" and "It's fun to get presents." Of course, she still says "I Love You"!
This long brown-haired, brown-eyed sweetheart is dressed for the season in a 1960s style plaid taffeta jumper with a black velvet cummerbund, a crisp white, eyelet trim blouse, and black velveteen shoes as well as a net slip and white socks with eyelet ruffle. Her first holiday outfit makes this limited edition doll a special keepsake.
She even comes with a collectible ornament that reads "Holiday Chatty Cathy 1999" and a numbered Certificate of Authenticity.
This Holiday Chatty is BRAND NEW - NEVER REMOVED FROM HER BOX - netting is still on her hair - hair is actually long and bangs will be wonderful and even when netting is removed.
Price for this beautiful doll is $119.99. Buyer to pay shipping/handing charges of $8.50.
To PLACE AN ORDER or for further information, please e-mail us: ChattyHeart@hotmail.com
For Payment Options, click here: Payment Terms and Shipping Information

---
Also check out our auctions on eBay. (Use the logo at the right to sign up.)
You want more? Check back later -- more coming soon!
If you have any comments about our site in general, say so.
Thank you for viewing our pages & let everyone know that you found them here!
---
anyWWWhere SM Bookstores & Gifts + Music
About our Site with Hearts
Contact Us
Links & Advertising
Shopping @ 1 Cybers Place
---
+ visitors!

Images & text are copyright 1995, 1996, 1997, 1998, 1999, 2000.


Created & maintained by 1 Cybers Place