A CJLutz Chatty Cathy Page with Hearts SM
Your One-Stop Guide to Chatty Fashions, Dolls & Books! anyWWWhere! SM
Because, you are what you wear! TM
Chatty Cathy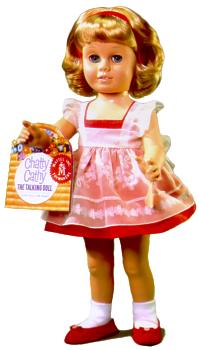 Chatty Cathy® Doll by Mattel [sold out in most stores]
Beloved by Generations, the Original Chatty Cathy® is Back!
Classic Chatty Cathy® speaks 11 phrases at random--"I'm hungry," "I love you," "Will you play with me?", "Please carry me", etc. -- just like a real little girl! Standing 20" tall, with brown eyes, movable head, arms, legs, freckled nose, chubby tummy, and two front teeth, Chatty Cathy® wears her strawberry blonde hair in a pageboy that can be brushed and styled. Comes with a color, eight-page storybook, warranty card, and numbered Certificate of Authenticity. Packed in a reproduction of her original carton with carrying handle. A Classic Since 1960.
Chatty Cathy® wasn't just a doll. She was a childhood friend girls could always talk to. She touched the hearts of an entire generation and became one of the most legendary dolls of all time. That's why after almost four decades, this wonderful, nostalgic doll is back. As lovable as ever, this Limited Edition doll has been painstakingly re-created and wears a reproduction of her 1960s Red Pinafore dress that covers an adorable red sunsuit. And we'd never forget her little shoehorn.
From her sweet, red velveteen shoes to her endearing original voice and phrases, this meticulous reproduction lets you talk to your old friend once again.
Price for this beautiful doll is $119.99. Buyer to pay shipping/handing charges of $8.50.
This is for a brand new, never opened, in box, mint in box (MIB) Mattel Reproduction Chatty Cathy dressed as pictured above.
To PLACE AN ORDER or for further information, please e-mail us: ChattyHeart@hotmail.com
Please contact us for purchasing other reproduction Chatty Cathy dolls or one of the original Chatty family dolls: Chatty Cathy, Chatty Baby, Tiny Chatty Baby & Tiny Chatty Brother; these are our favorites and the ones we own, but we could also help you find Charmin Chatty, the later Chatty Cathy model/version or Singing Chatty too. ChattyHeart@hotmail.com
For Payment Options, click here: Payment Terms and Shipping Information

---
If you can't find a Chatty Cathy, Chatty Baby or Tiny Chatty Baby/Brother, let us know, we can probably find one for you. We are always looking to buy or sell these 4 types of dolls and accessories from the 1960s and their reproductions, for the right price. Also check out our auctions on eBay. (Use the logo at the right to sign up.) So if you have "something Chatty" to sell or want to buy something specific, tell us! ChattyHeart@hotmail.com
You want more? Check back later -- more coming soon!
If you have any comments about our site in general, say so.
Thank you for viewing our pages & let everyone know that you found them here!
---
anyWWWhere SM Bookstores & Gifts + Music
About our Site with Hearts
Contact Us
Links & Advertising
Shopping @ 1 Cybers Place
---
+ visitors!

Images & text are copyright 1995, 1996, 1997, 1998, 1999, 2000.


Created & maintained by 1 Cybers Place