A CJLutz Chatty Cathy Page with Hearts SM
Your One-Stop Guide to Chatty Fashions, Dolls & Books! anyWWWhere! SM
Because, you are what you wear! TM
Red & White 5-piece Sunday Dress for Chatty Cathy
from one of her Vintage Patterns
by My Motherís Hands
This dress is made of a 100% washable, soft Cotton fabric that is a white background with red hearts as well as red flowers tied together with red ribbons. It has two heart-shaped pockets trimmed in lace with red ribbon bows. Lace trimmed neckline and sleeves. It fastens together in the back with snaps and has a red ribbon sash that ties together in the back.
And that is not all!! Your Chatty will be dressed completely with the matching white cotton slip trimmed in lace that matches the dress along with white knit undies and white knit sox. The undies have the same matching lace!
We have also included the red hair ribbon to complete this outfit.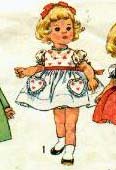 I have included a photo here from the vintage pattern - the pattern is not included in this sale. I have also included a photo of Chatty in this outfit with black mary jane shoes so that you can see how sweet she looks. Sorry, shoes and Chatty not included in the sale price of this outfit.
Price for this outfit is $27.99. Buyer to pay shipping/handling cost of 99 cents for USPS 1st Class.
To PLACE AN ORDER or for further information, please e-mail us: ChattyHeart@hotmail.com
For Payment Options, click here: Payment Terms and Shipping Information
***All handmade outfits are of excellent quality, created by My Motherís Hands. All sewing is done by my mother and aunt. These are two of the finest seamstresses you will find anywhere, taking time for details that many of us donít have have the patience for!! You wonít find a higher quality product anywhere! These ladies made Chatty outfits for my dolls 40 years ago (mostly from the now-vintage Chatty patterns) - they canít believe Iíve asked them to do it again!
---
If you can't find a Chatty Cathy, Chatty Baby or Tiny Chatty Baby/Brother, let us know, we can probably find one for you. We are always looking to buy or sell these 4 types of dolls and accessories from the 1960s and their reproductions, for the right price. Also check out our auctions on eBay. (Use the logo at the right to sign up.) So if you have "something Chatty" to sell or want to buy something specific, tell us! ChattyHeart@hotmail.com
You want more? Check back later -- more coming soon!
If you have any comments about our site in general, say so.
Thank you for viewing our pages & let everyone know that you found them here!
---
anyWWWhere SM Bookstores & Gifts + Music
About our Site with Hearts
Contact Us
Links & Advertising
Shopping @ 1 Cybers Place
---
+ visitors!

Images & text are copyright 1995, 1996, 1997, 1998, 1999, 2000.


Created & maintained by 1 Cybers Place